Hedge Fund Data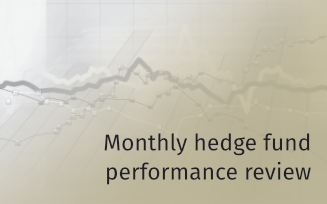 Monthly hedge fund performance review – February 2022
22/03/2022
Hedge fund performance was mixed in February; dispersion was tighter and losses were less severe than in January. Strategies with a higher beta to equities made losses as global equities sold off in response to the Russian invasion of Ukraine and concerns about a more hawkish response to inflation from the US Federal Reserve.
HEDGE FUNDS
Hedge fund composite
Hedge fund strategies monitored by Aurum's Hedge Fund Data Engine delivered mixed returns in February. The average hedge fund net return in February across all strategies was -0.45%. Performance dispersion was tighter than in January.
Long biased
Long biased funds monitored by Aurum's Hedge Fund Data Engine returned an average of -1.45% in February. Most sub-strategies were negative for the month, with the exception of long-biased commodities, which returned 5.5%. The worst performing sub-strategy was long biased fixed income.
Quant
Quant funds monitored by Aurum's Hedge Fund Data Engine returned 0.55% on average in February, continuing their positive start to the year. The best performing sub-strategy was CTA, which was buoyed by rising commodity markets. The worst performing sub-strategy was quantitative equity market neutral, which returned -0.99%.
Equity long/short
Equity Long/Short funds monitored by Aurum's Hedge Fund Data Engine returned an average of -1.27% in February. All sub-strategies were negative on the month. The worst performing sub-strategies were sector, global and Asia Pacific long/short funds.
Macro
Macro funds monitored by Aurum's Hedge Fund Data Engine were relatively flat in February, generating an average return of -0.12%. Sub-strategy returns in February were generally positive; with the exception of macro emerging markets continuing the sub-strategy's weak start to the year, weighing on the overall macro strategy performance.
Multi-strategy
Multi-strategy funds monitored by Aurum's Hedge Fund Data Engine returned an average of 0.39% in February. The largest funds ($5bn+) delivered the strongest performance of 0.61%. However, the second largest grouping ($2-5bn) delivered the weakest performance, losing on average 0.62%.
MARKETS
Major events
Geopolitical issues dominated the news in February, as Russia invaded Ukraine. The range of sanctions issued by governments furthered uncertainty of the economic impacts of the situation. Elsewhere, US inflation continued to register multi-year highs, as January CPI data rose to 7.5% year-on-year.
Equities
Global equity indices were mostly negative at the end of February, with the exception of the FTSE 100 and CSI 300. This was mainly driven by Russia's invasion of Ukraine and the resulting sanctions. Russia's status as a key commodity exporter was particularly impactful, as investors weighed up the likely impact on food and energy prices.
Government bonds
Government bond yields were generally slightly higher on the month, driven by increasingly hawkish central bank stances. Offsetting this were some flight-to-safety effects of the month's geopolitical events. The US 10yr briefly surpassed 2% intra-month, though ended at 1.83%.
Corporate bonds
Corporate bonds sold off in February, in line with the worsening risk-off sentiment. EM credit was the worst performing. DM corporate bonds performed better, though were still down on the month, with higher quality bonds outperforming high yield.
Currencies
The US dollar was held up by the flight-to-safety of investors amid the Russia/Ukraine tensions and subsequent invasion. The euro declined, despite a hawkish tilt from the ECB indicated earlier in the month. The Chinese yuan performed well, as did the Japanese yen. Unsurprisingly, the Russian ruble, alongside the currencies of neighbouring Ukraine and Belarus, sold off significantly.
Commodities
Commodities generally performed strongly in February. This was driven by the consequences of the Ukrainian conflict and sanctions on Russian producers, largely impacting agricultural commodities and oil prices. Precious metals also performed very strongly as investors fled to safety.