Hedge Fund Data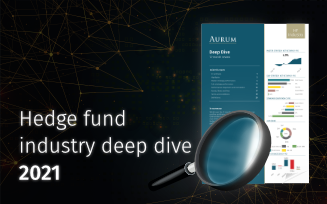 2021 hedge fund industry deep dive
21/01/2022
In summary…
A combination of positive performance and marginal net inflows saw industry assets grow over the year by just over $243bn. From a growth perspective, multi-strategy funds were the big winners, benefitting from a combination of significant net inflows as well as strong performance.
The hedge fund industry continued its positive run of performance through 2021, finishing up 7.6%, having returned over 9% the previous year.
Performance dispersion between the top and bottom decile performing segments of the hedge fund universe fell sharply in 2021, however, current dispersion remains elevated relative to the 2012-2020 period.
The best performing strategies were event (+12.1%), multi-strategy (+11.4%), long biased (+10.8%), and credit (+9%).
Coordinated activity by retail investors in January led to extreme levels of volatility in the equity long/short space. However, diversification contained the damage, ensuring that contagion from elevated equity long/short volatility did not spread across the whole hedge fund space, with strategies such as event, long biased, credit, arbitrage and macro sailing through January relatively unscathed.
Overall hedge funds performed well in 2021 with the HF composite return comfortably above its 5yr CAR (6.59%)
Strategy performance
The best performing strategies were event (+12.1%), multi-strategy (+11.4%), long biased (+10.8%), and credit (+9.0%). All of these strategies' performance (except multi-strategy) figures were heavily skewed towards positive performance produced in the first half of the year.
Multi-strategy funds had the most consistent returns and also outperformed in H2, with particular stand out performance in September and November, both of which were negative months for the hedge fund industry (-0.3% and -1.3%) and also where both equities and bonds sold off.
Quantitative strategies ended their dismal run of performance (+8.6%); they did particularly well in December driven by the risk premia and quant EMN sub-strategies.
Macro funds were the clear underperformers in 2021, down 20bps after a particularly challenging second half of the year, with many funds wrong-footed by rate moves in October and November.
Equity long/short (+4%) also underperformed relative to other strategies and longer-term averages. This underperformance is also surprising given continuing appreciation of equity markets.
Credit's performance was strong relative to its 5 year CAR (compound annual return) (+5.1%).
NET RETURN OF MASTER STRATEGIES (1 YR)

*HF Composite = Aurum Hedge Fund Data Engine Asset Weighted Composite Index. **Bonds = S&P Global Developed Aggregate Ex Collateralized Bond (USD). ***Equities = S&P Global BMI. † = Returns net of all fees and expenses.